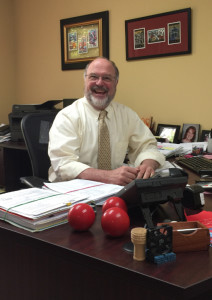 Hello, I'm Mark Aschbacher, owner of the Lincoln Insurance Agency, "Where Insurance Makes Sense". We have been serving the Louisville community since 1958.
The Lincoln Insurance Agency was first established in 1958 and was soon bought by my father, Kenneth Aschbacher, in 1961. Since our beginnings, we have always been a family owned and operated business located in the St. Matthew's zip code of 40207.
In addition, we pride ourselves in being the oldest Traveler's agent in Kentucky by representing them since 1958. However, the Lincoln Insurance Agency represents more than ONE insurance company, including several leading insurance companies. The Lincoln Insurance Agency is licensed to do business in Kentucky and Indiana.
Upon college graduation from the University of Louisville, I stared working for my father full time, which led to me eventually buying the agency in 1996. All the while still keeping Kenneth active in the agency. Even to this day, we provide service to Kenneth's original clients.
I have over 30 years experience, and have been a Certified Insurance Counselor for over 20 years. I stay very involved in the community with memberships in the Saint Mathews Chamber of Commerce, Chamber of Jeffersontown, Greater Louisville Inc., Bonnycastle Club, German American Club, and BNI (Business Network International).
More recently, I am happy to announce that we have added my daughter, Sara Aschbacher, to the family business. She graduated from Transylvania University with a BA in Business Administration. Upon graduation she received her Insurance License and is working full time looking to grow the agency.
Like our slogan says, "Where Insurance Makes Sense", we focus on trying to help our clients understand their policies in order to make them more prepared for when a disaster occurs.
Thank You and All the Best My Friend,


Mark R Aschbacher